Do you need garage door installation for a commercial building in Bakersfield, CA, or a surrounding city? Make Kern Door Company your first call. We offer a variety of commercial garage doors to suit every need.
Call (661) 380-7319 to schedule your commercial garage door service in Bakersfield.
Commercial Businesses We Work With
Because your company, operations and space requirements are unique, when you need a garage door installation or replacement, you should seek one designed for your specific environment.
We install commercial doors for:
Auto repair shops
Hospitals
Manufacturing
Parking garages
Restaurants
Retail businesses
Your commercial garage door is essential to business and offers a high return on investment. Contact Kern Door Company for quality, durable and reliable commercial garage doors.
Need new commercial garage doors? Call Kern Door Company at 661-380-7319 to schedule garage door installation or repair.
Types of Commercial Garage Doors We Install
Companies need garage doors made from extra-strong materials. They need doors that can withstand multiple openings and closings, so durability is another factor.
The thickness of the door affects quality. Materials may need to offer additional fire protection, and the hardware must be strong and operate efficiently.
Kern Door Company offers many types of commercial garage doors, including:
Aluminum/glass overhead
Fire-rated doors
Fabric roll-up
High-speed rolling service doors
Overhead rolling doors
Insulated garage doors
Sectional garage doors
Security grilles and shutters
Wind-load doors
Loading docks
And more
Questions? Call 661-380-7319 to get a free estimate on commercial garage door installation.
When Should You Replace Your Commercial Doors?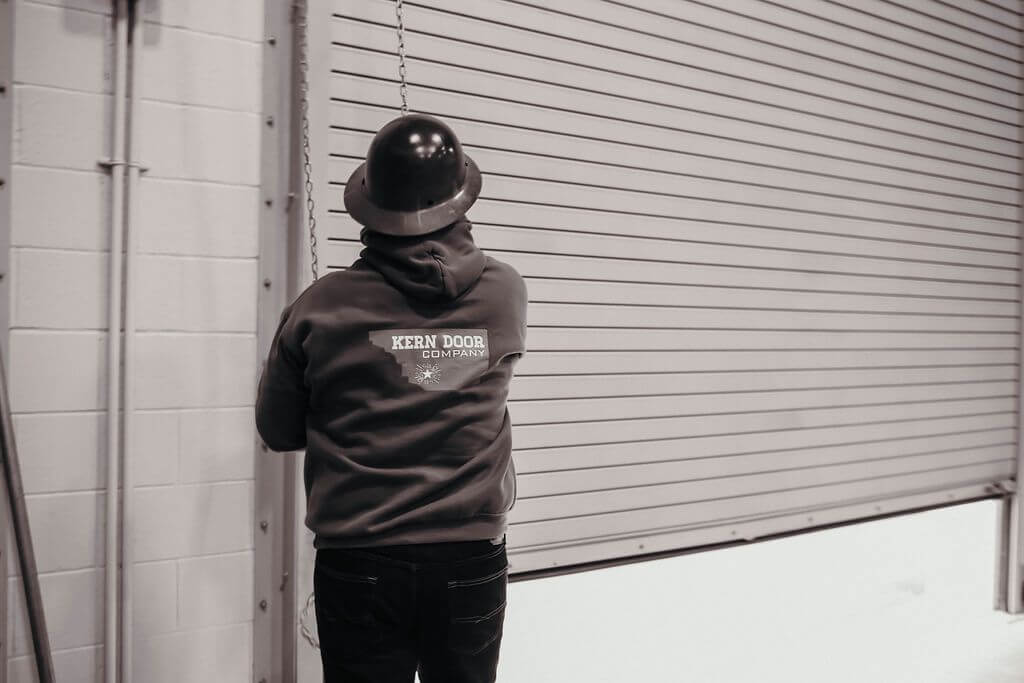 Commercial garage doors can last 15 to 30 years, depending on usage. Your commercial garage door may operate as the entrance to a trendy dining or shopping experience — or it might serve as protection for storing valuable supplies and inventories.
Four signs you need commercial garage door replacement include:
Age: It won't stop functioning at a convenient time. If your commercial garage door is 20 to 30 years old, consider investing in a replacement before it's an emergency.
Damage: If it's been hit, dented or damaged by machinery or theft, your malfunctioning commercial garage door compromises security and safety. A misaligned door also causes energy loss that may be reflected in your monthly bills.
Frequent repairs: At some point, you need to cut your losses and stop paying for expensive commercial garage door repairs. A replacement will offer stress-free, safe operations for years to come.
Visibility: Businesses have curb appeal too. If your commercial garage door is outdated and/or looks bad, it reflects negatively on your company.
No matter how you use your commercial garage door, a Kern Door Company commercial garage door installation will offer:
Efficient, easy operations
Insulation and/or fireproofing properties
Reliable material characteristics
Security
Let's partner to assess your business's needs and what you can afford. Your commercial garage door project will be our priority.
Call 661-380-7319 today to get started.
Commercial Garage Door Brands We Install
Commercial garage door styles can be as dramatic or subtle as you want. Or maybe you're only interested in superior strength and durability. You'll get the best form and function from Kern Door Company's commercial garage door brands:
C.H.I. Overhead Doors®: If you're looking for a workhorse, this may be the commercial garage door for you. In addition to strong doors, they offer strong warranties and sustainable solutions for companies that care.
Cornell Innovative Door Solutions®: Since 1826, CornellCookson has offered high-quality rolling door and grille solutions to companies like yours.
Porvene®: Since 1948, Porvene has been a leader in continuous steel sheet doors, sunshades and sunscreens for high-rise industrial and commercial properties.
Wayne Dalton®: Traditional, carriage-house, contemporary… whatever the style, Wayne Dalton is recognized as an architectural design leader in commercial garage doors.
Windsor Door®: This manufacturer and distributor of high-quality commercial sectional overhead doors has offered commercial garage door solutions for over 50 years. They have distribution centers in Arkansas, California, Georgia and Texas.
Commercial garage door maintenance, repair, replacement or installation in the Kern County area is one call away.
Why wait? Call 661-380-7319 to get a free estimate.