Do you need garage door installation for a commercial building in Bakersfield or a surrounding area in Kern County, California? Make Kern Door Company your first call! We offer a variety of commercial garage doors to suit every need.
Give us a call at (661) 380-7319, or contact us online to schedule your commercial garage door service in Bakersfield!
Our Commercial Garage Doors in Bakersfield, CA
We carry a full line of doors designed and engineered for all of your commercial and industrial applications. We are sure to have one that's right for you — we offer insulated doors, high-speed rolling service doors, security grilles, fire-rated doors and more. Our doors are ideal for a variety of buildings, including:
Warehouse Doors
Warehouse doors must be reliable and easy to operate during work hours, and unassailable to protect your inventory. The team at Kern Door Company can help you determine the right warehouse door for your needs and install it to perfection, whether you need truck doors, overhead rolling doors, high-speed doors or dock loading doors. Your doors will operate flawlessly and lock firmly against the world when we're done.
Fire Station Doors
Fire station doors' reliability can mean the difference between life and death. A malfunctioning firehouse door could introduce minutes of delay to a situation where every second counts. By working with Kern Door Company, you can ensure that you'll have a reliable firehouse door perfectly fit for the architecture and design of your fire station, whether that means repairs or full replacement.
Parking Garage Doors
Parking garage doors take the stress out of security and enhance the value offered by your parking garage. Whether your garage is for-profit or exists to benefit customers, residents or employees, good parking garage doors that secure visitors' vehicles and minimize your exposure make for a sound investment. Our high-performance parking garage doors will make it easier for everyone to trust your facilities.
Auto Body Shop Doors
Auto body shop doors often serve as a form of advertisement, so it pays to invest well in them. People who don't register your sign or know your business will still recognize an auto shop from its distinctive set of garage doors — and if those garage doors are in disrepair or seem unreliable, that's going to make an impression. Make sure your auto body shop has doors that look and operate exceptionally with the help of Kern Door Company.
Storage Facility Doors
Storage facility doors need to be reliable and easy to operate, above and beyond similar doors. Your storage facility doors will often be operated directly by people unfamiliar with them, meaning they need to be reliable. After all, your customers will notice if the doors feel flimsy or easily bypassed while they're operating them. Make sure your doors offer the security, ease of use and privacy satisfactory to your customers' expectations with the help of Kern Door Company.
Commercial Garage Door Brands
At Kern Door Company, we take pride in offering attractive, durable commercial doors from leading manufacturers, such as Porvene Doors.
Originally formed in 1948, Porvene has evolved and improved over the years. Since its opening, the company has added architectural facing to its product line by manufacturing sun and shade screens for high-rise industrial and commercial buildings and continuous steel sheet doors.
As a modern leader within the industrial and commercial door industry, Porvene continues, and will always, manufacture a superior product with innovative designs and techniques to meet every single customer's needs.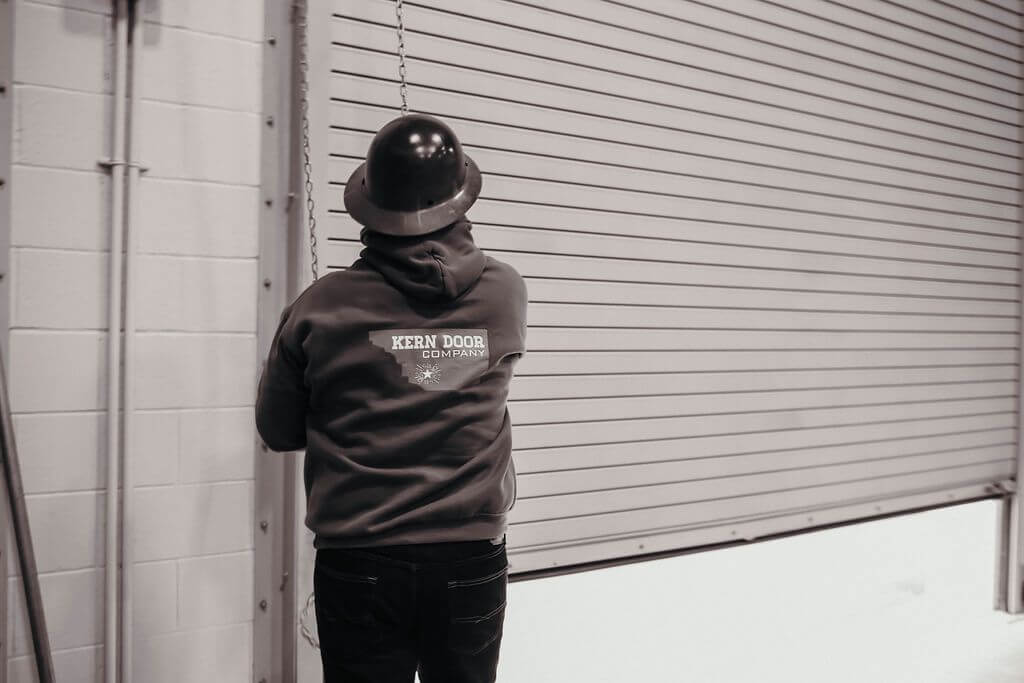 The history of the Cookson Company, Inc. goes back to the 1800s. Today, this manufacturer continues to be committed to the commercial rolling door industry by providing high-quality, innovative, valuable products.
The Cookson Company remains family-owned and -operated, and they're proud to put their name on every door they manufacture. From schools to parking facilities, these quality commercial doors work well in a variety of applications.
Since its establishment over 60 years ago, Wayne Dalton has led with precision and innovation. They continue to lead with these principals today. The fact that their largest manufacturing plant in Ohio has won statewide architectural recognition for its design speaks to their quality and expertise.
Windsor Door makes attractive, high-quality commercial garage doors that meet every need and aesthetic taste. With over five decades of designing doors and more than 3,000 authorized dealers across the county, Windsor Door is a renowned brand in the industry.
Commercial garage doors should be well-built and affordable. They should provide years of service. C.H.I. Overhead Doors established its brand on a foundation of heritage, tradition and values.
C.H.I. is the leader in the garage door industry for warranty support. Their environmentally sound products ensure quiet, safe and clean operations. Only the best garage door sales, service and installation companies represent C.H.I. Overhead Doors.
Contact Us Online Today
Give us a call at (661) 380-7319 or contact us online to schedule commercial garage door installation, replacement, repair or maintenance in the Bakersfield area!