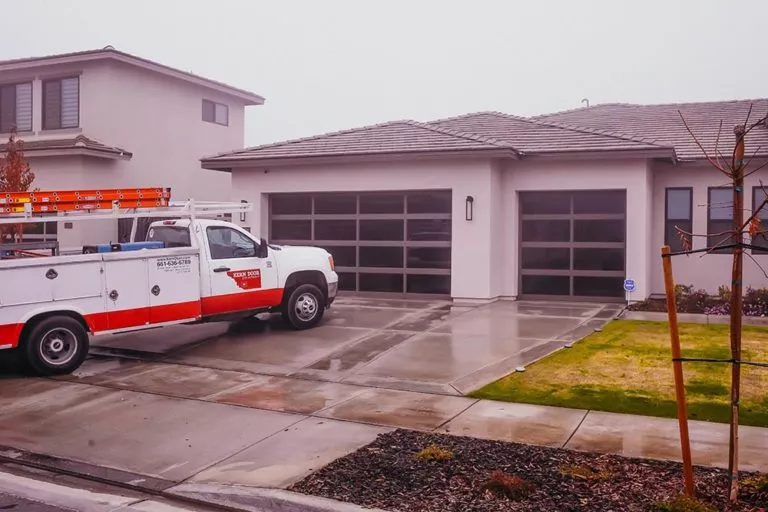 Do you need garage door installers serving Kern County? Make Kern Door Company your first call. We provide residential and commercial garage door and opener installation.
No matter the scope or size of your project, our team can help. We have experience working with local builders and contractors on new construction jobs, and we can help you finish your project on time and on budget.
Call (661) 380-7319 or contact us online to schedule garage door installation in the Kern County area! 
Residential Garage Door Installation in Bakersfield, CA
Kern Door Company is proud to offer doors from leading manufacturers; these products are of the highest quality. We offer traditional sectional garage doors in:
We have a variety of materials for your custom doors, and we can customize them to your house and match the style.
For more information about our residential garage door installation in the Bakersfield area, contact Kern Door Company at (661) 380-7319 or online.
Commercial Garage Door Products & Services in Kern County
Whatever your needs, you can rest assured the door we install will perform reliably and last a long time. We carry a full line of doors designed and engineered for all of your commercial and industrial applications. We are sure to have one that's right for you—insulated doors, high-speed rolling service doors, security grilles, fire-rated doors, etc. The doors we offer are ideal for a variety of buildings, including:
Parking garages
Auto body shops
And more!
With all of our commercial services, we can install doors that last a long time and are designed and engineered for your needs.
To take advantage of our commercial services, contact Kern Door Company at (661) 380-7319 or contact us online.
Brands We Trust for Garage Door Installation
Windsor Door – Windsor Door makes attractive, high-quality residential garage doors that meet every need and aesthetic taste. With over five decades of designing doors and with more than 3,000 authorized dealers across the county, Windsor Door is a renowned brand in the industry.
Wayne Dalton – Since their establishment over 60 years ago, Wayne Dalton has led with precision and innovation. They continue to lead with these principals today. The fact that their largest manufacturing plant in Ohio has won statewide architectural recognition for its design speaks to their quality and expertise.
Porvene Doors – Originally formed in 1948, Porvene has evolved and improved over the years. Since opening, the company has added architectural facing to its product line by manufacturing sun and shade screens for high-rise industrial and commercial buildings, and continuous steel sheet doors.
Cookson Company, Inc. – This manufacturer is committed to the commercial rolling door industry by providing high-quality, innovative products of value. With over 70 years in the rolling door business, the Cookson Company remains family-owned and -operated and is proud to put their name on every door they manufacture. From schools to parking facilities, these quality commercial doors work well in a variety of applications.
Bakersfield-Area Garage Door Opener Installation
Just as important as a high-quality garage door is a garage door opener that works correctly. At Kern Door Company, we provide garage door services in the Kern County area (installation, repair and replacement), and that includes garage door openers.
Kern County's Top Choice for Garage Door Installation
If you're looking for new garage door installers serving Bakersfield, California, and the surrounding areas in Kern County, look no further. Whatever your new construction project requirements, you're in good hands with our experienced team.
Contact Kern Door Company today by calling (661) 380-7319!